Private Investigator is a mission on CnR. The mission is very similar to the Manhunt mission, but it is only available for civilians. In the mission, you have to locate and find a randomly selected player in a limited time. You must find the designated player in 5 hours in order to complete the mission. You must be an innocent civilian in order to start this mission. It was added in Version 23.
Guide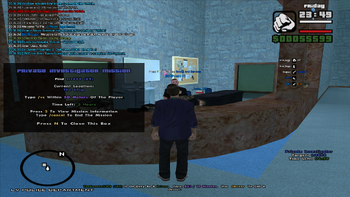 You can start this mission by visiting the Police Department of the current city. Open up the textdraw by the bot and select the mission.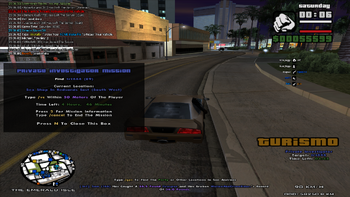 You will be assigned a random player or a bot. The mission textdraw will tell you their location. Make your way to the player. You can use commands such as /info (/i) or /location (/loc) or simply press 2 in the number pad or MMB (middle mouse button) on foot to find the player. The online player map can also be used.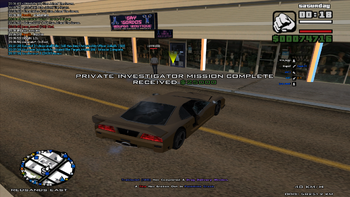 After you have found the target, use the command /vc within 50 meters of the player to complete the mission.





Video
Locations
The mission can be started from inside of the current city's Police Department, by the PD bot.
Private Investigator Mission Locations

Las Venturas Police Department
Community content is available under
CC-BY-SA
unless otherwise noted.