Cleanup Article
This article needs a cleanup or more information. You can help by adding to it's information or tidying up it's content.

Los Santos is the first main city in San Andreas. It is the most south-eastern city, with road links to Red County
and Flint County
Landmarks and important buildings
City Hall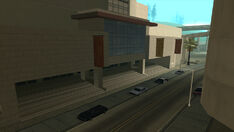 The city hall can be found at Temple Southwest of Crazybob's Place and North of Ammunation.
Hospital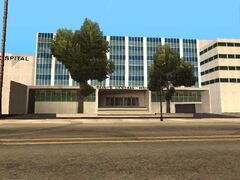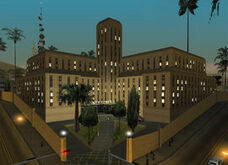 Los Santos has 2 hospital.
All Saint General Hospital is located in Market
County General Hospital in Jefferson.
Regular Players Club
The Regular Players Club is found in Rodeo. There are a couple of Stretches in front of it, but it doesn't have a parking garage.
DM stadium
The LS DM stadium is located south-west of the East Beach. You can freely DM inside without any consequences.
Travelling
Bridges
There are three major bridges in and out of Los Santos.
Martin Bridge
Martin Bridge is the bridge heading from Red County to Bone County.
Martin Bridge - Satellite Location
Fallow Bridge
Fallow Bridge, alongside Martin Bridge is a bridge that is heading from Red County (Hampton Barns) to Bone County.
Fallow Bridge - Satellite Location
Flint Bridge
Flint Bridge links south west Los Santos (Rodeo/Santa Marina Beach area) to Flint County.
Flint Bridge - Satellite Location
Airport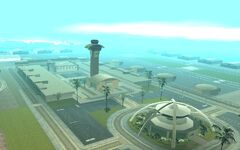 Los Santos International is located south-east of Verdant Bluffs.
Roads and Traintracks
There are two major highways in Los Santos. One comes in Northeast Los Santos, heading south. It passes above the police department before curving to the west and passing the Los Santos Airport Parking. It the curves around to the east, passing into a tunnel under the runway area, before emerging and turns northward. It runs on the eastern edge of Los Santos, passing in between Los Santos and the docks, before running northward out of the city towards Las Venturas. Another highway branches off of the first one in the middle of Los Santos, heading in an easterly direction before terminating near the DM Stadium.
A pair of train tracks run into Los Santos from Flint County, running underground, beneath Northwest Los Santos, emerging in the train station at El Corona. It then continues heading northward through East Los Santos, vanishing in a tunnel in Red County.
Crime
Police department
The police department is found in Pershing Square. It has two parking garages, one of them is underground.
The second police department is found in Red County in a small town called Dillimore. It has a small parking garage in which police vehicles are placed.
Ocean Docks
Ocean Docks are located east of the Los Santos International. It consists of several cranes and a large ship.
The Vehicle Sell Checkpoint is here.
Ocean Docks Crane - Satellite Location
Community content is available under
CC-BY-SA
unless otherwise noted.