Cleanup Article
This article needs a cleanup or more information. You can help by adding to it's information or tidying up it's content.

The fast food restaurants are probably the easiest and cheapest place to get food in CnR. The three fast food chains are Cluckin' Bell, Well Stacked Pizza and Burger Shot. Fast food restaurants are robbable locations, although they rarely produce over $20,000.
Cluckin' Bell
General
Cluckin' Bell sell chicken. The workers are dressed as chickens, and one is your main competition in the "Beat the Cock" triathalons.
Los Santos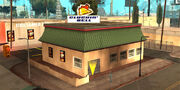 East Los Santos
The shop is a block south from The Pig Pen, just north of the bridge that passes over Grove Street.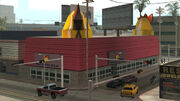 Market
The shop is right next to the donut shop in Market, just south of the Vinewood film studio.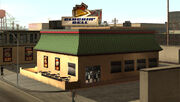 Willowfield
The shop is south of Grove Street, just north from an Ammunation.
San Fierro
Downtown San Fierro
The shop is north-west of the San Fierro police department parking lot.
Ocean Flats
The shop is just north west of the Ammunation, south of the main square in Ocean Flats.
Well Stacked Pizza Co.
Burger Shot
General
Burger Shot sell hamburgers. The workers are dressed with a Burger Hat.
Las Venturas
Spiny Bed
The shop is west of K.A.A.C Military Fuels, East of Prickle Pine and north of a Xoomer.
Las Venturas Shopping Center
The shop is in the Las Venturas Shopping Center betweek the Old Venturas Strip and Julius Thruway East.
Whitewood States
The shop is west of Julius Thruway West and Bandito's Stadiun and east of Car Sell Crane .