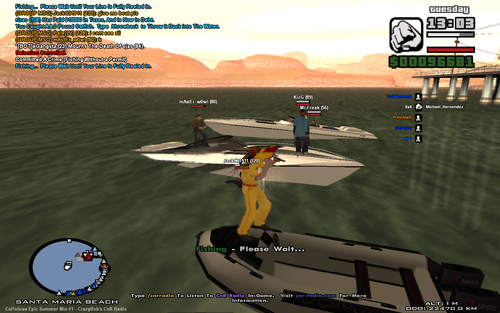 BloodyCripZ Gang or often shortened as BCG is a Gang on CnR created by Pele LV.
The Gang was created on Sunday, April 28th 2013.
Currently The Gang is only active in Los Santos city because most of The Gang members are mostly/only playing Los Santos.
First Members
First member who joined The BCG Gang was JackC21911 after him Wazaa and KizG joined The Gang.
Alliance/Enemies
On June 25th player called ||Cnr|| sent /pm inside game to BCG Owner/Founder Pele[LV] asking if BCG wants to form an alliance with Gang called The Ones whose owner is ||Cnr||. Pele LV agreed to form the alliance with The Ones Gang he only needed his other two gang leaders acceptation. Leaders JackC21911 and KizG agreed to that. Alliance was later canceled when The Ones "died out".
On December 25th, 2013 formed a new alliance with a gang called Elite Blacksuits, EBS Owner Poetic_Gangsta offered Pele an alliance, shortly after the other 3 leaders confirmed the alliance, it was official. The alliance between the two gangs was on going but it's owner decided to make a fuss and break it all of a sudden because he had a problem with a recruit.

BCG's only enemy was a group called BlackWater. Many of BCG members started to argue with them since it's creation in Summer 2013 including Pele. The Fuss ended when Pele removed them as enemy on our page. Even though members are fond of arguing with other BlackWater members, especially with Sinisa (BlackWater's Owner).
Memberlist
Founder/Owner

Leaders
Members
Mr.Freak a.k.a Ljangangero69
Helpers/Guests
Community content is available under
CC-BY-SA
unless otherwise noted.